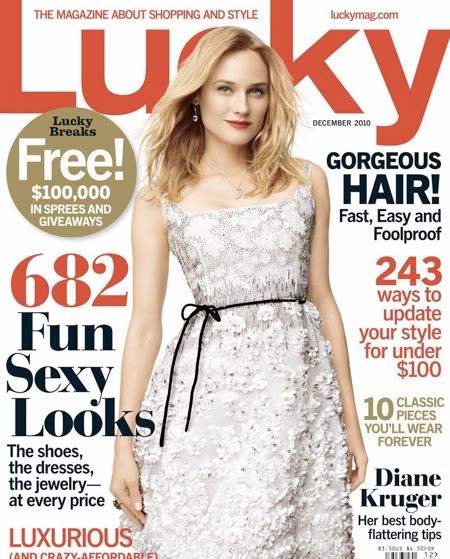 Happy 10th Anniversary to
Lucky Magazine!
I actually remember when I saw one of my first issues of Lucky during my freshman year of high school!
This particular December 2010 issue (GEEZ, WHERE DID THE YEAR GO?!) is important because of two things: 1) new editor in chief Brandon Holley and 2) Lucky Mag recounts all the huge sartorial moments that have happened in the last 10 years.
So far some of the new changes (new formats are rumored to be implemented in the March 2011 issue) include the back page, which Andrea Linnett edited, (she has also left Lucky Magazine) and I noticed that the feature on coverstar Diane Kruger also had a different format (which I like!) Lucky Magazine has always been one of my favorites, but lately I found myself being disappointed in some of the editorials and the design, and while I love Texans like Kim France that made it big in the fashion magazine world, I'm sure that Brandon Holley will take Lucky into the next decade with a fresh fashion spin.