I tag everyone who is reading this and has a blog! Let me know if you do it!

1. Who is your favorite designer?
Chanel, YSL, Philip Lim, Marc Jacobs, DVF, Oscar de la Renta, DKNY, Jason Wu, Prabal Gurung, Lanvin (Alber Elbaz),Marchesa - SO many! But I think you can get a sense of the kind of style that I aspire to: chic, classy and well structured.

2. What are your favorite pair of shoes?
Real or imaginery? Because if we're talking real, I think my $10 Leopard print platform slingbacks are my favorite but I rarely wear them. They are from Payless and I think they are so cute! Imaginery: YSL Tribute sandals. They will be MINE. For now, I just got some Tribute wannabees from Guess! They are 3/4ths as cute as the YSL for 1/10th of the price!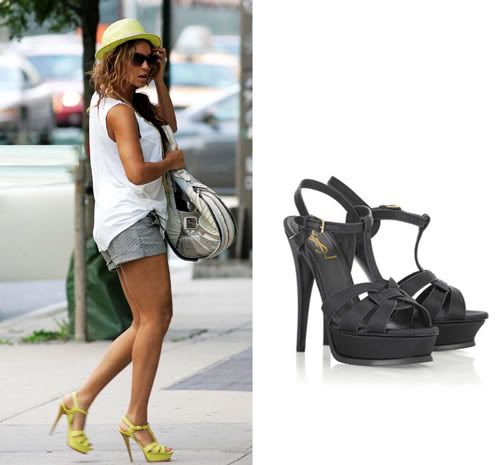 3. What shirt do you wear the most?
I find that I wear the same things over and over... (I just need more clothes) but the thing that I wear the most is my Old Navy boyfriend striped button down shirt. I just throw it on with a pair of jeans and go! Either that or my black Vneck from American Apparel.
4. What pieces of jewelry do you wear most?
my SAVE ring (for my sisters), my class ring and my 'Loca' necklace.
5. What is your ultimately desired item?
A Chanel handbag! (I'm with Brandi on this one) Medium 2.55 in black with gold!
6. What handbag are you currently carrying?
Louis Vuitton Speedy
7. What are your favorite stores?
Urban Outfitters, J.Crew, Target, Zara
8. What are your favorite jeans, sunglasses, heels?
Jeans: Gap skinnies
Sunglasses: None
Heels: I'm going to go with my Steve Madden blackish/greyish pumps after the other heels.

9. What is your favorite inexpensive item that you own?

$14 belt from H&M that is black braided with golden clasps.

10. What is your favorite accessory?
S.A.V.E. ring