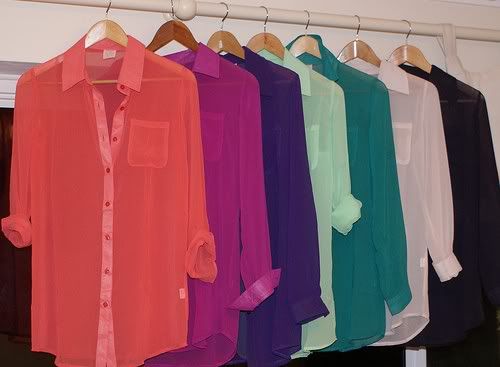 I've been on the hunt for a sheer blouse for a year now. It's not that they're hard to find, but it's hard to find the RIGHT one that I want (and in my price range). I think every girl should have one sheer blouse in their closet, they're so versatile! You can wear them to work, a party, a date, in the summer, winter, fall, etc... you get where I'm going with this. They are definitely worth the money, and whenever I do find the right one for me I'm buying every color! Lol. Also, I'll let you all know where I found it OR if you've seen a cute one somewhere LET ME KNOW!!!!
Examples of how you can style them:
* Summer - with a pair of blue jean shorts* Fall - a patterned sweater over it with a pair of skinny jeans and flats (or heels)* Winter - a trench or pea coat over it with a pair of dark skinny jeans and dressy boots* Spring - brightly colored skinny belt around the waist and a (casual) pencil skirt and a pair of ankle boots* Work - tucked in a pencil skirt (plain or pattern) with a bold necklace underneath and your cutest heels* Party - with a pair of dressy shorts and ankle boots or dressy heels, statement earrings and a cute clutch.